As long as I have been old enough to reason, a good meal has always been accompanied by a good glass of wine. This meant that from a very early age I was curious about how wine was made, what it would taste like, what it would wed best with, and so on. In 2005 I met a key person in my learning on the subject, a learning that has helped me enjoy what I was drinking much more. That was José, whose full name is José Antonio Moliner Nicolás, the third generation owner of the Gran Bodega del Maestrazgo [wine cellar], at number 90, Carrer de Sant Pere Baix, one of the oldest in Ciutat Vella [, the medieval district of Barcelona]. I had been to other bodegues, but there was no real feeling. But with José there was instant chemistry. He spoke my language, he did not use technical jargon or words that sound good. I realized he was passionate about his work, a passion he knew how to convey. "What I like most about my profession is to be able to share my knowledge with my customers. First of all, I'm the one who's responsible for tasting the wines, so I have to be able to convey the sensations they give me to the customer. The wines I like to recommend are those that have a story behind them, a solid project, wines made by ordinary people, straightforward people who have staked on a product that's special. All this can be transmitted in a bottle, a label and a cork. That simple."
The history of the cellar began when José's grandparents left the Maestrazgo region because of a severe frost in 1952 that hit the olive-trees they made their living on. That same year, José's grandparents reached Barcelona where they settled and decided to open the bodega. "I could say my first memories of the bodega were practically from the womb, exaggerating a little. From a very young age, days old, they would go down to the shop with me: my mother told me that they would put me in an empty case of Montesquius cava, wrapped in a baby blanket. Of three siblings, I have always been the one who has had most contact with the bodega. It's part of my culture and my way of understanding life."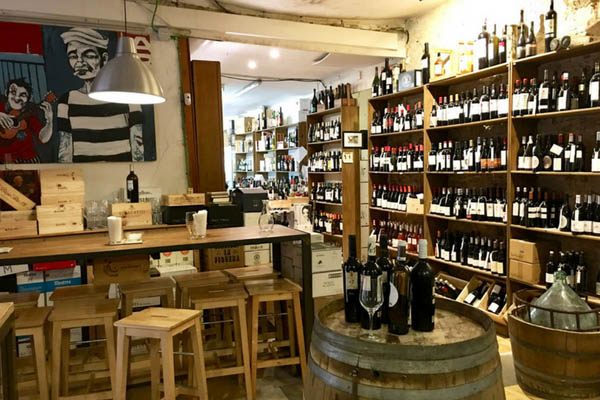 Oddly enough, José also inherited the bodega at a time of crisis. "So I took it over 100% in 2007, the year before the Great Recession blow out. There was a bit of transfer of power, my father had perhaps a more traditional vision of the world of wine, mostly classics like Rioja, Ribera del Duero, and so on. And I've always gone a little further. I've always liked to research, looking out for more special wines, peculiar productions in other words, different stuff, and I must thank my father for trusting me and giving me free rein."
The economic situation made José's beginnings as the head of the shop difficult. "It was time to turn it around, to search for new horizons. If we had not done so, 90% of Barcelona shops would have closed down by now. It was then we decided to offer the chance of tasting wines at the bodega, along with quality titbits, and the opportunity of wine-tastings for groups."
They adapted to the times, dispensed with a part of the store, and took advantage to put in tables, chairs and a bar. "If there's anything we've achieved with those changes, it is to have closer contact with the customers, to find out more about their tastes. They have given us priceless insight on where the shots are coming from, what people are looking for."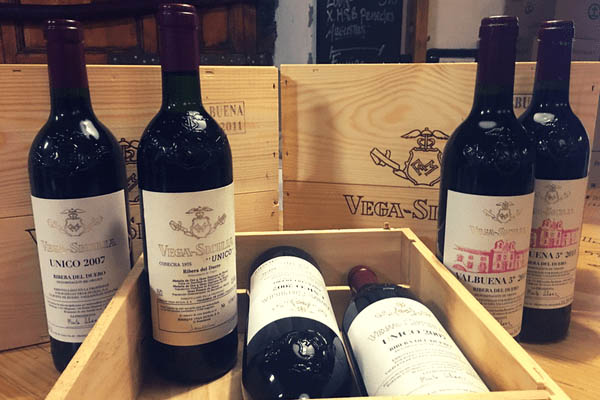 The bodega now maintains traditional elements like the sale of unbottled wines that José wants to carry on offering, but also appeals to a public that is attracted precisely because of the chance of tasting the wines and speaking one-on-one with an expert. "Change is not only through the store, I think we are facing social change, a change of population within the neighbourhood, several factors have put us where we are right now. We have perceived greater interest in participating in tastings and in the different degustations among the foreign population. It must be a cultural issue. I am fed up with offering free tastings of top class wines and not having a minimum number attending. It is sad but this is a business and we have to base it on what is most profitable."
Of the 75 Designations of Origin or DOs that exist in Spain, at the Gran Bodega del Maestrazgo  they stock almost sixty. And José, who invests passion, time and enthusiasm to keep moving forward with his project blending tradition and modernity, expresses one last thought: "The best wine is still to come." Good for all of us: we will keep enjoying seeking excellence as one of the many pleasures the land gives us. Salut!
GRAN BODEGA DEL MAESTRAZGO'S RECOMMENDATIONS
I can't leave the bodega without doing what I have been doing for over 14 years. Ask José for those wines that are now giving the greatest results at his bodega. Those little pearls where value-for-money more than balanced and justified.
I ask him to suggest a red, a white, a rosé and a cava, so the NBP readers you can surprise your guests at dinner. On José Moliner Nicolás' word:
RED
Ultreia (Saint Jacques) by Raúl Pérez. Price: €12
"This is a single variety Mencía, very youthful but also showing very vibrant tannins. A tasty wine to accompany any meat or fish. Mencía has at last been presented before the world of wine, and I would say that it is presiding it right now. A few years ago it was unthinkable that a Mencía could be enjoyed in summer as well as in winter. A simply awesome wine."
WHITE
CULTIVARE by Domènech Vidal. Price: €20
"A wine that has brought great satisfaction, and it's not a cheap wine. Production of whites is often more delicate and costly than reds. You can come up with many more problems, which is why prices are a bit higher. This is a single variety Xarel·lo, made in 3 phases; It is fermented in steel, in wood, and is stored in cement. Very clearly Xarel·lo, very crisp, aromatic and very textured, long in the mouth and muscular. The pungency and heaviness of the wood is not noticeable. A perfect wine, absolutely awesome."
ROSÉ
Pla dels Àngels by Scala Dei. Price: €18.50
"The best rosé ever produced in Catalonia, this is a true reference. Very little elaboration. They work with some old Catalan Grenache vines, wonderful on the palate. Fermented in 500 litre vats. It's a jewel, very few bottles, a great job done. Always looking for excellence in quality. A fully-fledged grand wine."
CAVA
Serral del Vell by Recaredo. Price: €32
"This is a Gran Reserva—aged at least 30 months—with everything that implies. Words that might define it: unctuous, long, exciting, ecological, varietal… It has everything. A Cava you will remember tasting for years."