T
he first noble truth about Buddhism is that all life is suffering and pain. The loss of our beloved, illness, natural tragedies, impairment of our abilities due to ageing, or the errors that, though small, may result in serious consequences, are essential realities in life that may suddenly appear and turn our world around. Life is never perfect and we all, one day or another, will have to face what Facebook's number 2 Sheryl Sandberg, one of the heavyweights of Silicon Valley, calls "option B". To a large extent, how we face these events will determine our success and happiness.
In the case of Sandberg, this traumatic event happened suddenly during her holidays in 2015, when her husband died suddenly of a cardiac arrhythmia, and became a widow with two young children to bring up on her own. In her magnificent book Option B (Conecta), Sandberg, in tandem with psychologist Adam Grant, explains the personal experience of how she and her family overcame this painful loss and managed to carry on with their lives and move forward. Through Sandberg's first-hand experience and Grant's theoretical knowledge, author of the essential Originals, the book tackles the several phases involved in any mourning period and suggests many techniques, mechanisms and ideas that can help us overcome adversity under the most stringent conditions and recover the joy of living.
Developing the capacity of resilience involves, apart from intelligence, perseverance, self-compassion and self-confidence. In principle, such tasks may sound easy but they are not that easy and, many times, they are counter-intuitive for our brain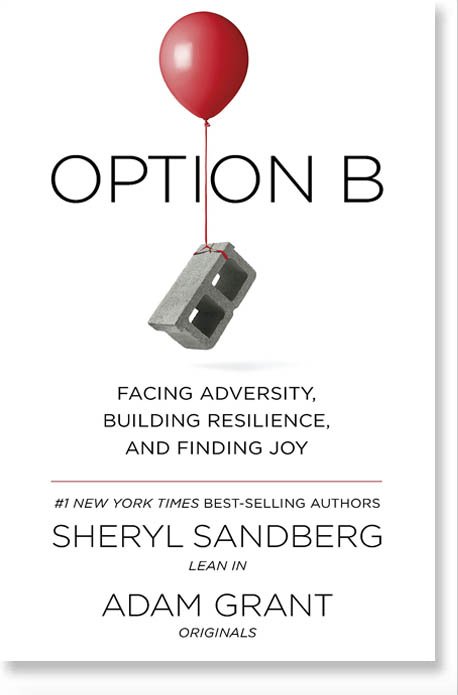 The book, a beautiful love letter from Sheryl Sandberg to her late husband, is a powerful practical manual of how we can reinforce one of the main muscles of our mind: resilience. Resilience is not an innate talent, like most things in life, but is something we need to work on and develop with good will and constant practice. Resilience, as Sandberg and Grant point out, emanates eventually from our capacity to appreciate and be grateful for the good things life has given us, and from our intelligence in accepting things that are not so good.
Developing the capacity of resilience involves, apart from intelligence, perseverance, self-compassion and self-confidence. In principle, such tasks may sound easy but they are not that easy and, many times, they are counter-intuitive for our brain. For millennia, our brain has been programmed with a variety of mechanisms with a view to safeguarding our survival. For example, one of the genetically inherited characteristics shared with our ancestors is the fact that we tend to remember more and better bad things than good things, painful rather than pleasurable experiences. In fact, forgetting things is an unintentional activity. Let's imagine ourselves in the woods 13,000 years ago, and our hunting and gathering colleague ducks, takes a bite of a mushroom that has appeared on the base of a tree and, the following day, dies. Remembering this event and, by so doing, becoming more careful when eating mushrooms appearing on the base of trees (despite being hungry), is more important than remembering what fun we had yesterday when we bathed in the river. In other words: accepting our imperfections, our errors (major and minor), learning to live with them, overcoming and moving forward has never been an easy task. Self-compassion often co-exists with a strong feeling of guilt, among many others, that we should try to keep under control and hold back to ensure that they do not limit our personal and potential growth.
 
Writing, in other words thinking and meditating, working on trust in ourselves, having faith in the others, practicing our sense of humor, thinking about the good things that we enjoy every day, being grateful or celebrating the "small everyday victories", are some of the techniques and mechanisms that, if practiced and reinforced enough, will improve our mood and help us face life challenges more efficiently. This means changing, improving and assimilating the principle that overcoming adversity depends on our will and our attitude, and these solutions are within ourselves. As Albert Camus wrote: "In the middle of winter, I discovered within myself an invincible summer." Out of traumatic events, if we want to and work with faith and optimism, we can come out of them reinforced, antifragile.
This is why it is so important to educate children into being resilient. We should avoid overprotecting them, and respect their autonomy, and give them our full confidence. One of the key aspects of this ambitious endeavor is the relationship between parents and children, educators and friends. In our interaction with young people, we should be able to transmit the following 4 ideas: (1) we have the capacity of exerting some control over our own lives; (2) our errors and failures are powerful sources of learning; (3) every one of us is unique and unrepeated, and this makes every person important; (4) our world has strong points that we need to share with the others. In sum, Option B is a wonderful book about the theory and practice of resilience, a key virtue to live a brave and meaningful life, and therefore, be happy.