W
hen a machine imitates the cognitive functions inherent to human beings, such as learning and problem-solving, this is called artificial intelligence (AI). The awakening of machines and knowing whether we are prepared for them to gain consciousness are just some of the headlines we have seen in the media. As the article Is artificial intelligence set to become conscious? published on the website of the World Economic Forum so aptly put it, some of the  questions are related to technology, but others are more geared towards what consciousness actually is.
Therefore, apparently what we thought was science fiction is beginning to be palpable, and now we have to coordinate a host of actors to ensure that it is truly real and effective. First, we need committed governments that foster favourable environments with powerful infrastructures and also get universities, R&D centres and companies involved. Knowledge and market to promote advances in the development of the artificial intelligence industry.
China has taken the first step. Last summer it presented a three-year strategic action plan to become the world power in AI technology by 2030 with the goal of building a national industry valued at almost 150 billion dollars.
To be more competitive, to be more efficient, the human factor and technology must go hand in hand
In academia, a study performed by the legal platform LawGeex entitled "Comparing the Performance of Artificial Intelligence to Human Lawyers in the Review of Standard Business Contracts", with law experts from different prestigious American universities, pitted 20 experienced lawyers against an algorithm developed over the course of three years which was trained to evaluate legal contracts. They were given four hours to review five NDA's (non-disclosure agreements) and identify 30 legal matters. The upshot? The lawyers needed 92 minutes on average to review the documents, compared to the 26 seconds needed by the Lawgeex algorithm. The conclusions of this experiment are unanimous: to be more competitive, to be more efficient, the human factor and the technological factor must go hand in hand. On the one hand, we automated processes that could be quicker and cheaper, while on the other, this would free up time for lawyers to get involved in more valuable tasks, such as providing legal advice.
The large companies, most of them technology-based, aware of the advantages of incorporating AI and machine learning into their products and services, have begun to compete to acquire the top start-ups in this field
Google has already positioned itself clearly by launching a platform, 'Learn with Google AI', with tutorials that aims to be used as a resource hub. This site is targeted at all the profiles involved, from the most novice students to researchers and data scientists.
This is why it is not surprising that Google also leads in the acquisition of tech start-ups in this field with a portfolio of 13 (Deepmind, Moodstocks, Api.ai, AiMatter, Halli Labs, Kifi, Granata Decision Systems, Jetpac, Boston Dynamics, Meka Robotics, Industrial Perception, Schaft and DNN Research). After Google come Startx, Apple and Microsoft, bearing in mind both the number of successes and investments. In many cases, the amount of these transactions has not been reported.
In Europe, Dealroom.co, the data, analysis and investment platform of tech and venture capital companies, has published the Annual European Venture Capital Report which highlights the fact that in 2017, more than 19 billion euros was invested in European start-ups, exceeding record figures. From this analysis, we can glean that deep tech is leading these investments, followed by fintech, healthcare, marketplace and artificial intelligence.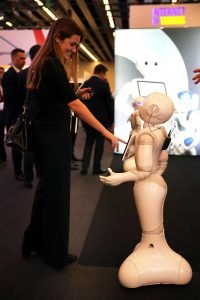 ARTIFICIAL INTELLIGENCE IN BARCELONA
Barcelona recently hosted the Mobile World Congress, where artificial intelligence played a prominent role in this year's edition. The MWC offered corporations and start-ups the best showcase to display their latest advances, an experience that was more practical than theoretical.
Telefònica took advantage of the congress to unveil Aura, its cognitive intelligence platform and a new tool to connect with its clients. In the launch session, José María Álvarez-Pallete, president of Telefonica, and Chema Alonso, its chief data officer (CDO), reported that in the past 5 years the company has invested 48 billion euros in its three platforms (physical assets, IT systems and products & services), and they presented the brain behind the fourth one: AURA.
Our clients want to speak to technology and do things in real time. Aura makes this possible, claimed Alonso. Aura listens, learns and allows you to interact just by speaking with the web to make the most of what they call your personal data space. In a live demo, Chema Alonso interacted with Aura using a Microsoft HoloLens and then interacted directly with his smartphone. Aura allows you to manage your digital experience via cognitive intelligence.
From a different vantage point, last year Amazon announced the forthcoming opening of a new research and development centre (R&D) based on machine learning in Barcelona, where it expects to hire more than 100 engineers and scientists when it opens in 2018.
Barcelona is no stranger to this industry, and the list of emerging companies from the Barcelona & Catalonia Startup Hub led by ACCIÓ is beginning to include projects associated with artificial intelligence and machine learning. The platform currently has information on 1,230 start-ups, 58 of them classified as artificial intelligence.
We should note that these companies' target is primarily business-to-business, and approximately 10% of them, Kernel Analytics, Squirro, Gestoos, Nektria, Rocketroi, Transmural Biotech and Restb, have received investments of over one million euros.
WHAT DOES THE FUTURE HOLD?
"Thinking that the new technologies are going to ruin the economy is almost as outdated as the Industrial Revolution", said Seth Benzell last week speaking to the audience at the American Consulate of Barcelona. Seth Benzell holds a PhD in Economics from Boston University and is a postdoctoral fellow at the MIT initiative on the digital economy.
Artificial intelligence will change the nature of labour relationships: people will be hired to solve problems, but lifelong jobs are fated to disappear
The strength of his argument opens a debate beyond the opportunities that artificial intelligence will offer us. How will we overcome the conflicts of interest that will face workers who have to implement projects that could simultaneously destroy their jobs? The added value of the human component has to be reconsidered. There is no doubt that artificial intelligence will make us interact with technology differently.
And these reflections are particularly relevant to the labour market. Artificial intelligence will change the nature of labour relationships: people will be hired to solve problems, but lifelong jobs are fated to disappear.
In his conclusions, Benzell suggests that in the not-too-distant future, there will be two apparently unrelated areas of major job growth: one for people with the technical knowledge to implement and manage the new technologies, and the other for people with the interpersonal and humanistic skills that cannot be automated.