How do you feel, knowing that your novel beat the other 273 that were submitted?
I still can't believe it! I'm still floating on Cloud 9!
Why did you decide to submit it?
Four years ago, I discovered the first novel that won this competition, Los días que nos separan by Laia Soler. And I loved it, I mean I really loved it. I read it and I told myself, "These are the things that I would love to convey". So, I decided that someday I would win the competition myself.
Where did you get the idea of writing a book in which stars feature so prominently? Are you an astronomy fan?
Not at all. I had to learn about it. I like things that are a bit mystical, and I thought: "How can I connect the theme of fate and bring some magic to the book?" And then I thought about the stars, because I've always found them interesting, constellations and all that. My mother firmly believes in horoscopes…
Your mother believes in horoscopes and you believe in fate.
Yes, totally. I've always believed that fate exists ever since I was very little.
So, you were fated to win this competition.
That's exactly right! [laugher]
The book talks about family, friendship and love, in that order.
Yes, family is really important. I wanted to write one of those tender books where you feel swaddled by your family.
Well, you did it! So, are you this tender in your daily life or only in the way you write?
I'm quite sensitive, but I wouldn't call myself tender. Although it's true that I do perceive everything quite intensely.
Is there anything autobiographical in the story? For example, have you ever lost or fought with a close friend?
More than fights with friends, I've had ruptures, friends who later I've figured out aren't worth it. But no, it's not autobiographical.
But in the book you describe a kiss between the main characters as "two joined constellations". That isn't autobiographical either?
You mean have I felt that? Of course I have! And I hope everyone feels it at some point.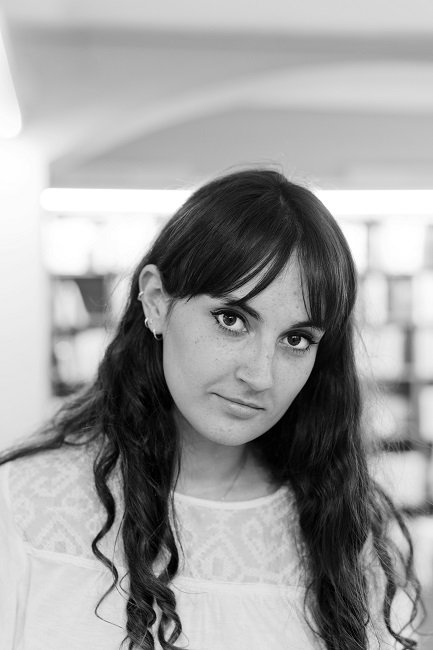 At the start of each chapter is a phrase that the narrator says to herself.
Yes, and that is autobiographic. The advice that Gala gives herself is what I want to give myself in life. The first one is something like, "Stop wanting to control the future or the past because they're beyond your jurisdiction", which is something I should do because I always overthink things and never enjoy the moment.
What do you want to convey to the reader?
The importance of second chances. That sometimes we have to forgive ourselves and others.
We all have the right to second chances?
It depends on what we're talking about, but … second chances, yes. Not third ones.
Speaking of opportunities, why do you think you won?
I think that the story fits in pretty well with the editorial line: it's tender but has a dark side. Just like life's road, where there's a bit of everything, and sometimes what is bad is good.
Jordi Nadal, the director of Plataforma, says that all the young women who have won the award have gone on to have careers as writers. Where do you see yourself in 5 or 10 years?
Not as a lawyer. I've known that for sure since my second year of university. I wanted to finish the degree, but no, I'm just not cut out for it. I'd like to be a writer, although I'm not sure if that will work. Let's hope so!
What advice would you give young men and women who want to write their first book?
To take their time to decide when they want to do it. They have to find the right time. And then comes the next step: when you're afraid of being judged, that people won't like your book. That's the reason I took so long to write it. But it's something you've got to learn to live with. You have to decide whether it is worth it for you to write despite the criticism or not to write and feel miserable.
Do you know what you're going to do with the 3,000 euros in prize money?
I'm considering doing a Master's in Legal Translation and Legal Interpreting. But that's just one option; I'm not sure yet.
Have you found the love of your life?
Yes, four years ago and we've been together ever since.
Interview: Ana Portolés
Photograph: Rita Puig-Serra
You can read more stories like this on ALMA, the social social media, a digital space devoted to the social field, which brings a new look at the present and the future of society, from an optimistic and diverse point of view, and from all the initiatives that "la Caixa" Foundation promote.