T
he Cap Roig Festival, which will be held from July 13 to August 22 at the Jardins de Cap Roig, is consolidated in its 18th edition as the most international musical event in southern Europe, both for the profile of the 28 artists and programmed groups, as by the variety of origin of the public. Luis Miguel, the most popular artist in the history of Latin America, will be in charge of inaugurating the Festival, while Andrea Bocelli, one of the lyrical voices par excellence, will be in charge of putting the finishing touch to this edition.
One more year, Cap Roig offers a wide variety of musical styles ranging from the most local pop to the most international rock, passing through American folk or the most influential fusion. Luis Miguel, el Sol de México, with 100 million albums throughout his career, 5 Grammy and 4 Latin Grammys, will be in charge of inaugurating this eighteenth edition of the Cap Roig Festival on Friday, July 13, with its premiere world tour ¡México por siempre!
Manolo García will play songs from his new album Geometría del rayo, whilst Bryan Ferry, an indisputable pop giant, will take to the stage to perform a selection of his greatest hits during the weekend of 13 and 14 July.
The international stars who will be playing on this stage for the first time this year are the Scottish band Texas, which has sold over 35 million albums; the Latino band Maná, which has sold more than 40 million; the leading Irish universal pop-folk singer-songwriter Damien Rice; the international megastar Juanes, who has 21 Latin Grammys; the Colombian quartet Morat, which has broke sales records in recent years on the way to becoming a surprisingly successful pop group; and the queen of American folk, Joan Baez, who has announced that she is retiring from the road.
Other appearing artists include Sting, who has won 16 Grammys and sold over 100 million albums around the world and is returning to Cap Roig after three years; and James Blunt, who performed at Cap Roig in 2014 and is coming back to play his new album, The Afterlove. Roger Hodgson will return to the Festival on the night of 18 August, this time to perform a concert from his Breakfast in America world tour. Finally, Andrea Bocelli, the incomparable international lyrical singer and classical solo artist who has sold the most albums in the world, will close this 18th edition of the Festival on 22 August.
From the Spanish music scene, in addition Manolo García, we will once again enjoy the live music of Antonio Orozco, who, after ending his Destino tour last December at the Palau Sant Jordi in Barcelona, will once again take to the stage to play songs from his Único tour.
The prodigious voice of Luz Casal makes her another can't-miss artist. With more than 5 million albums sold, she will return to perform Que corra el aire. Rosario, the most genuine Spanish flamenco-pop singer and an old friend of Cap Roig, will perform on 2 August. Sergio Dalma will also be back with his new album, Vía Dalma III. Others returning include Macaco, Hombres G and Pablo López, a singer-songwriter from Malaga who is the number one in sales with his new album, Camino, fuego y libertad and will share his excellent recent artistic output with the audience.
The Spanish band that has won the most international awards, Jarabe de Palo; the king of Spanish rock and roll, Loquillo; and today's leading Spanish pop group, Taburete, will all debut at the Cap Roig Festival this year. Catalan pop will be represented this year by Joan Dausà, who will come to perform his latest album, Ara som gegants, and by Els Catarres, who will return to Cap Roig to add to the festive atmosphere with their powerful live performance.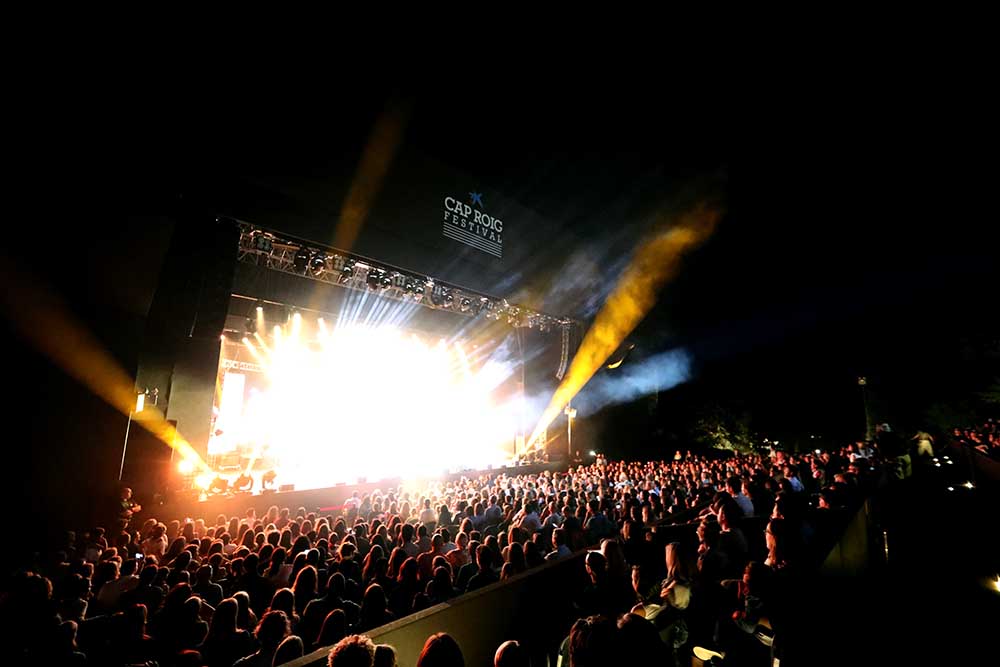 THE BENEFIT CONCERT IS HERE TO STAY
Once again this year, the Festival will have a benefit concert. Promoted by "la Caixa" Banking Foundation and Clipper's Live for the Cap Roig Festival, the benefit concert will support the TRESC Foundation – Treball amb Suport [Work with Support] in Palafrugell, a foundation that works to train and find employment for people with disabilities and mental illness.
Antonio José, who will perform the benefit concert this year, already has three platinum albums under his belt at just 23 years of age and is considered the most important emerging pop star in the country.
Following the success achieved with Cap Roig Mini in previous years, this edition the Festival is committed to family concerts with special attention paid to the little ones: two big entertaining shows by Mag Lari and Dàmaris Gelabert will take place on 4 and 10 August, respectively. Mag Lari will perform their show Dolce vita, a fun and agile performance that combines magic for children and adults with the irony of the gentlest Italian stereotypes.
Accompanied by her band, Dàmaris Gelabert will perform her new album, Naturalment, which is not just good music, but also transmits fundamental values, emotions and feelings.
DINNER AT VIA VENETO FACING THE SEA
Food and drink will continue to be provided by Via Veneto, a highly prestigious establishment that has renewed its Michelin star uninterruptedly for almost 40 years and regards quality service as one of its primary characteristics.
Like every year, the entire dining team of Via Veneto will move to Cap Roig and will add 60 people from the county to its staff to reach a total of around 100. Via Veneto will base its menu on seasonal products from Empordà, purchased from local suppliers and in local markets, and will continue to be supported by local industry establishments that have worked for the event so far, adapting their food and drink menu to each space of the Cap Roig complex: Plaza, Cloister and Restaurant.
A SUSTAINABLE FESTIVAL: THE FIRST TO OBTAIN BIOSPHERE CERTIFICATION
Last year the Cap Roig Festival obtained Biosphere certification, making it the first music festival in the world to receive this distinction from an independent international organisation in the Events category. This certification is based on criteria of sustainability established in the 17 Sustainable Development Goals of the United Nations, and is granted by the Responsible Tourism Institute (RTI).
The promotion of local economic and social development, the hiring of people at risk of social exclusion, a minimal environmental impact, the compensation of greenhouse gas emissions generated during the Festival and responsible consumption are just some of the criteria adopted by the Festival that led it to obtain this prestigious distinction.
Year after year, the Festival has broken its own record of attendance: in 2017, there were more than 46,000 spectators who sold out almost all of the thirty concerts.