This year, Barcelona Design Week has had a very special tinge. The initiative organised by the Barcelona Design Centre has been joined by two big institutions. FAD (Fostering Arts & Design) and the Museum del Disseny (Barcelona Design Museum), with support from the Barcelona City Council, have made this well-rounded, transversal event possible, with more than 130 activities all over the city. 'Adding to multiply' is the emblem of this alliance that, as Museu del Disseny Director Pilar Vélez explained, "presents the city in a whole new way."
With the slogan 'Revalue', Barcelona Design Week 2018 has focused on reflecting on today's model for consuming goods and services. What is our relationship to objects? How should we consume to ensure a sustainable future? Questions posed from the standpoint of design, encouraging residents and professionals alike to participate in a series of activities, conferences, workshops, installations and exhibitions with Disseny Hub Barcelona as the epicentre connected to points throughout the city. As Barcelona Design Centre General Manager Isabel Roig explained, this is what the initiative is all about: "Barcelona Design Week is an event that is a member of the World Design Weeks Network and what we have to do is grow it, make it more international, more powerful and more open to the city."
BDW kicked off with an opening conference by Brazilian designer Humberto Campana, who founded Estudio Campana with his brother. Campana, one of the most prestigious and well-known designers in the world, shared his view of objects and the value we give them. Known for showing the 'B side' of things, he specialises in design blends, transforming and reinventing objects, bringing value to materials society normally sees as worthless.
Barcelona Design Summit, the yearly congress promoted as part of the event, focused on two of the United Nations objectives: sustainable cities and communities and responsible consumption and production. Noteworthy professionals from the design world, like sociologist, changemaker and UN Champion of the Earth Leyla Acaroglu and Director of MIT Senseable City Lab Carlo Ratti, focused their talks around the slogan for this edition, offering up their experiences of how design can help build a better world.
"Barcelona Design Week is an event that is a member of the World Design Weeks Network and what we have to do is grow it, make it more international, more powerful and more open to the city," said Isabel Roig.
The Museu del Disseny has contributed two specific activities to this year's event: "Do you design or work? The new visual communication. 1980-2003" and a series of family-orientated activities, both at the Museum.
FAD has contributed "the excellence and culture of design through the various professionals and companies that are members," explained the foundation's president Nani Marquina. In this regard, for the first time, the prestigious FAD Awards (the most important on the Iberian Peninsula and its islands) that this organisation gives out in the various fields of design were presented at an event under the umbrella of Barcelona Design Week.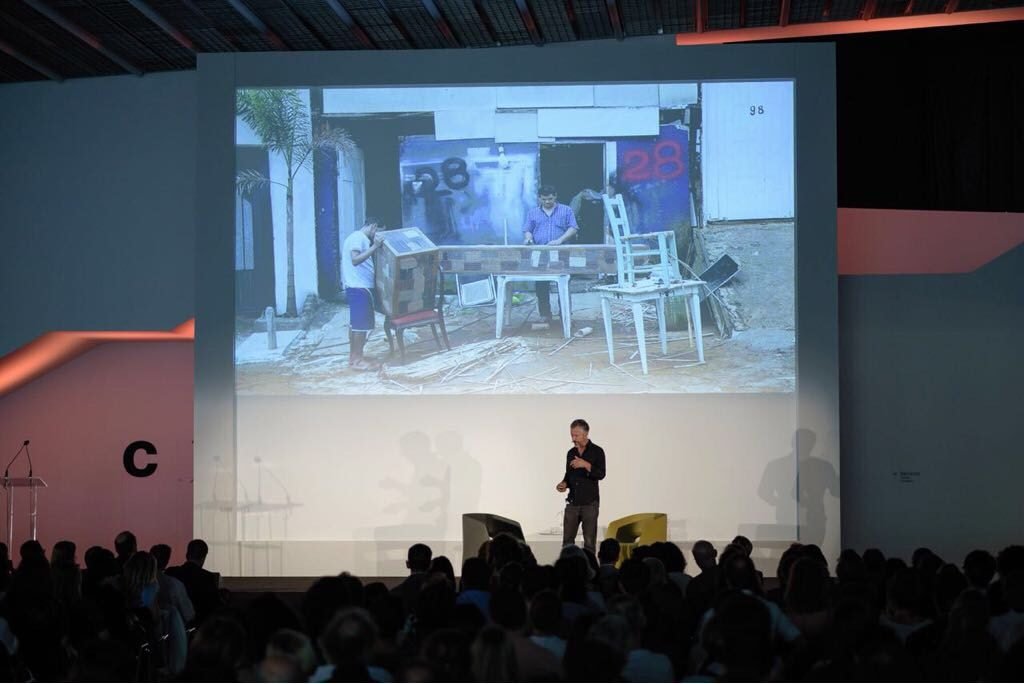 Along with the awards ceremony, the event also featured the "Best design of the year" exhibition, with the finalists and winners of the FAD Awards in all disciplines. A unique opportunity to see and get a close-up look at 500 significant pieces and projects and understand why the panel of judges, made up of national and international experts, recognised their innovation, prestige and excellence.
The General Rehearsal was another event held under the framework of this event. This initiative got its start three years ago and consists in looking at social problems facing society from the standpoint of design. This year, the event was curated by artist David Bestué and architects Moisés Puente and Miquel Mariné.
Can we continue using our current consumption and production model for goods and services? Can we base our economy on a system of infinite growth?  How do we relate to what we have and what we desire? What effect does our relationship with cities have? The questions posed at this edition of BDW 2018.
Starting from the title The Rebellion of Objects, Moisés Puente explained that, instead of questioning why consumer society has lost its love of objects, he has decided to call on people and professionals alike to forge new bonds that tie us to objects. A reflection that was conveyed through a series of conferences and the work of various artists and creators who participated in a public exhibition with still lifes. Another big hit was the "New domestic landscape. BCN: 2018", a dome made from technology waste that has been on display in Plaça Universitat, created by industrial designer Mau Morgó.
Another highlight was the exhibition "BASICS: A walk to question ourselves". "It aims to rethink society and everything around us, creating an open park where people can wander and question our individual and collective contributions," explained Isabel Roig.
'Adding to multiply', key in this year's event.
For this edition, the international guest was the Italian Consulate, which organised two exhibitions on design in Italy at Palo Alto. Among other initiatives, the first Tastadisseny: Gastronomy and Design Festival hosted a market with tastings, arts and crafts that went hand-in-hand with the installation "RR201" created by designer Andreu Carulla for Celler de Can Roca. And, the design schools also participated with LATENT. Talent Day, a space to promote young talent. Plus, there were activities all over the city… through collaborations with companies, workshops, stores and establishments that opened their doors to help bring design to the people, to eat, breathe and live it on these days that are key for the future of design.