World Cultural Events March 2019
MUSIC AND 
PERFORMING ARTS
MUSIC AND PERFORMING ARTS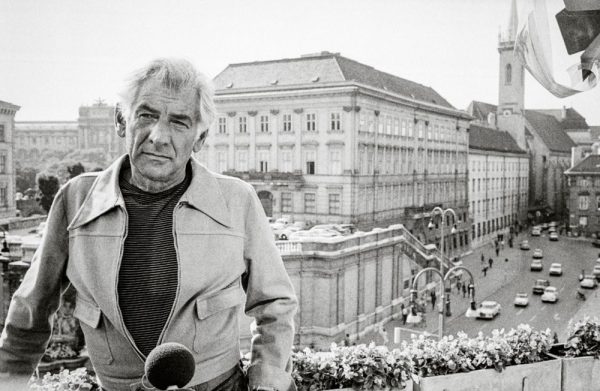 Vienna, until April 28
Inaugurated at the end of the year in which we celebrated the centenary of the birth of Leonard Bernstein, the exhibition organized by the Jewish Museum of Vienna focuses on the imprint left by the American director and composer. A New Yorker in Vienna does not only offer the testimony of his artistic work in front of the Philharmonic Orchestra, but also
accommodates materials in which Bernstein expresses his opinion in relation to some of the most sensitive and important issues of the Austrian society, and by extension of European history and culture. It is recalled, thus, that Bernstein "wore a traditional Austrian jacket in Vienna, "therapy against German nationalism" -as he said- and reintroduced into the programs of the Vienna Philharmonic, despite the initial resistance, to the rejected Gustav Mahler, and he even played a role in Austrian domestic politics".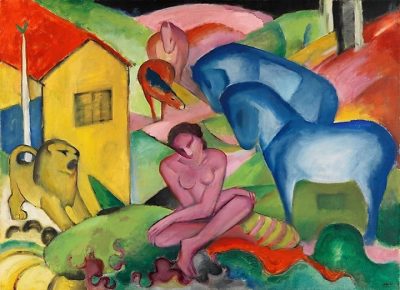 Paris, until June 17
Starting on March 6th, an exhibition at the Musée de l'Orangerie in Paris will focus on the works of Franz Marc and August Macke, artists commonly
referred as Expressionists, for their colour palette and the type of stroke, even if they include symbolic elements, absent in some of their movement compatriots. Franz Marc and August Macke were friends, and they shared their interest in the paintings Gauguin and Van Gogh, which they discovered in Paris. Hence the interest in nature that his early paintings reveal, and that would lead to an approach to the abstraction of forms, typically expressionist. The figure, and even the reference to nature, will be maintained, but transmuted -without the need to paint outdoors and experience it directly. In this sense, the blue horses of Franz Marc will inspire the title of the magazine Der Blaue Reiter, in which Kandinsky takes part as a result of their meeting in 1911. Only three years later both Macke and Marc are called to fight on the front, where they will die.
Madrid, hasta el 19 de mayo
After the excellent response that the exhibition Toulouse-Lautrec and the spirit of Montmartre had in Barcelona, the Madrid Caixaforum takes over.
Undoubtedly the sample is an excellent news for lovers of the nineteenth century and avant-garde art. Since it is Montmartre, in the context of a marginal neighbourhood -home of artists and souls without too many material attachments- in which began some of the most influential trends for the s. XX. An absolutely anti-academic art that grew apart from norms and the established "good taste". Toulouse-Lautrec, vocational painter of aristocratic origin, was caught in the world of celebration, in a not always pleasant manner. He had to experience the two sides of the bohemian life: on the one hand, its moral ductility, source of a frenetic creativity that would be reflected even in ephemeral supports, such as posters or posters announcing cabaret shows (despite which they would transcend, becoming true icons pagan, massively reproduced); on the other hand, the excessive schedules and habits that his fragile health did not take well. He wrote to his mother, when he was a young man of only 22 years: "I would like to tell you a little bit what I do, but it is so special, so 'outlaw' that, surely, father would say that I am an outcast. I had to make a very big effort, because as you know well, against my will I am living a bohemian life and I cannot get used to this environment". This magnificent exhibition recreates the feverish microcosm of the most rogue hill of the time, a place where circus shows and cabaret -popular entertainments, stimulating for artists- were the order of the day, as well as satire, reproduced graphically through the caricature. The public will discover works as interesting as those of Théophile Alexandre Steinlen, Georges Bottini or Jean Veber, and will be able to enjoy the skill of a Toulouse-Lautrec who is not only responsible for a thickly drawn figurativism and vivid colours, through which he portrays the protagonists of that elevated underworld, but of a series of works that are perfectly at the height of the two best-known post-impressionists, Paul Gauguin and Vincent Van Gogh, influencing -as they did- the future Parisian prodigy: Pablo Picasso.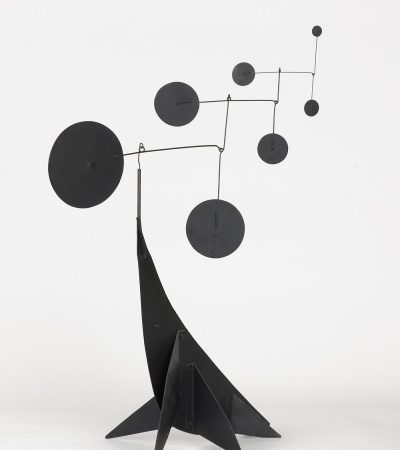 Chicago, until March 24
Until March 24th, the Museum of Contemporary Art in Chicago exhibits a show in which the creations of two artists of the twentieth century converge, each endowed with a marked idiosyncrasy, according to which they would hardly seem compatible.
Alexander Calder revolutionized the conception of space with his motives, falsely fixed sculptures - in fact, in perpetual change - that re-configure his essence as a work of art. For his part, Jeff Koons deals with different languages the instability in which the human being is involved, often in an absolutely unconscious way. The exaggerated, occasionally strident works as a reminder of our routines and habits of consumption. The exhibition Heaven and Earth: Alexander Calder and Jeff Koons -explain the organizers- "finds common ground between these seemingly disparate artists, with Alexander Calder's weightless sculptures nominally representing "heaven" and Jeff Koons's celebrations of the mundane and concrete as "earth." This pairing highlights both artists' interest in playing with balance and gravity to make compelling sculptural statements, while reveling in the contrasts between high art aspirations and mundane material choices".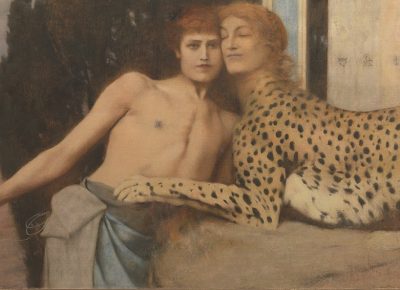 Paris, until March 17
Ferdinand Khnopff is still considered one of the most disturbing painters. The exhibition at the Petit Palais in Paris is entitled, precisely, Ferdinand Khnopff (1858-1921), the master of the enigma.
As in the cases of other symbolist painters, in his paintings converge dissonant elements, or at least unusual, with oneiric reminiscences. In fact, they refer the viewer to another type of reality -perhaps that of dreams- in which a logic that is difficult to wield prevails. The exhibition will bring together a hundred emblematic pieces of the complex aesthetics of Ferdinand Khnopff, painter, draftsman, engraver, sculptor and director of his work. The artist plays with themes, from portraits to dream memories, from fantasy to nudes, and invites to daydreaming and reflection on identity. In addition, his personality can be better outlined in the proximity of the paintings of other creators: "Khnopff's main works will be compared with those of artists of his time, from Gustave Moreau to Klimt and Von Stuck, allowing him to be understood in the context of European fin-de-siècle". The exhibition is not ordered chronologically but through the main themes of his work, which include portraits of children, dreams of landscapes that seem related to Flemish painting and of course a kind of mythology deeply personal, with symbolic elements, displayed in contrast with the strictly technological development of his historical moment.
Sign up for the newsletter and get cultural events delivered to your inbox.