Could you introduce yourselves?
Of course. We're Miquel Antolín (26), Mireia Trepat (27) and Joan Miralles (26). Three young chemistry students trained at Rovira i Virgili University in Tarragona.
 Freshly Cosmetics was established just two years ago, in 2016. You had just graduated…
We finished our degrees at 23 and got jobs in the chemical sector. We weren't fulfilled in these positions and dreamt of starting our own company. We started to kick around some ideas. We had loads of options and ended up discarding at least ten initiatives.  But in the end, we came up with one that truly inspired us: revolutionising the cosmetics sector!
Just like that. Without any prior knowledge of the natural cosmetics sector?
Well, Miquel's mum made homemade soap…
 Ah…
We realised that the market is full of cosmetics products with various toxic ingredients that have a serious impact on our skin health and the environment. So, we decided to modernise this practice and revolutionise cosmetics with an innovative business model, moving towards products that were not only natural but also healthier.
 A dream and drive. But without money, it won't work. Where did you get the funds to get started?
Our funding has come through our own resources (€20,000 capital), a line of credit from the bank and a crowd-equity campaign on Kickstarter, which raised more than €7,000. That helped us fund the initial production. Plus, we also won two awards: best entrepreneurial idea, from the Rovira y Virgili University Council, and the Tarragona Smart City Enterprise award.
It's only been two years. Did you imagine you would become successful so quickly?
When you set off on your own, you have to weigh up all the possibilities. It's a game of probabilities and you never know what's going to happen. Sincerely, we though the brand would get a warm welcome but we never imagined we would grow so quickly. The good thing is that success pushes you to continue improving and do your very best. Every day we face many new challenges to live up to the standards Freshly Cosmetics has set. 
What do Fresh Cosmetics products have that set them apart from other cosmetics brands?
What really makes us different is that we always put health first. Freshly Cosmetics is 100% natural, free of toxic substances and animal testing, sustainable, eco-friendly and vegan. The key to the products lies in their benefits for the skin and that customers notice over conventional cosmetics. Plus, each order is packaged with the utmost care.
Packaging is important, too.
We know that, beyond the products, Freshly is a shopping and consumer experience. In addition to natural cosmetics, we define ourselves as a digital brand. Attractive product shots and constant communication online. We like to give consumers loads of information and showcase our transparency: this builds a Freshly community!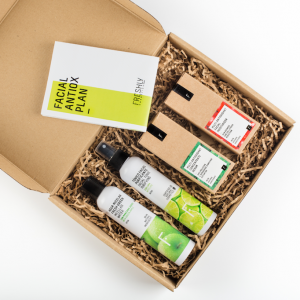 Your products aren't that expensive. How do you strike a balance between quality and price?
We think this is very important and focus on keeping customers. If consumers come back, it means they liked the product. We achieve this balance between quality and price by eliminating intermediaries completely. We control the whole process: the formulation, manufacturing and distribution of products to end customers.
You've shown that it is possible to be successful on the international cosmetics scene without leaving Reus. Will you continue selling your products online or are you planning to set up a shop?
The Freshly Cosmetics business model is online. This past Christmas we took our first step onto the high streets with a pop-up in Barcelona. After that experience, we're looking into trying one in Madrid. These two cities make up 30% to 40% of our revenue. One of the ideas we've been considering most is opening a permanent shop in the Catalan capital in 2019, although we can't reveal much more yet.
You're also available internationally…
At the beginning of this year, we took the leap into the European market and are now present in Portugal, Italy and France. Our big challenge this year is to position the brand more solidly in markets we believe are truly interested in this type of product and don't currently have anything of the sort on offer. We're working on our strategy to take the brand to the United Kingdom. We think this country will be a good gateway to launching Freshly Cosmetics throughout Europe.
What is your top product?
Our hair and face treatments are very popular. Our best-sellers, for example, are the Detox Refreshing Shampoo and the Hyper-Concentrate Eye Contour Serum. The first is free of toxic substances, no sulphates, silicones or parabens, and helps detox the hair and free us from our dependence on these substances, which are very harsh on the hair. It also features natural horse-chestnut extract, rooibos tea, natural menthol, aloe vera, grapefruit oil and argan oil for softness, volume and strength. The eye contour serum is packed with nine types of natural clinical technology that all combat the signs of ageing around the eyes.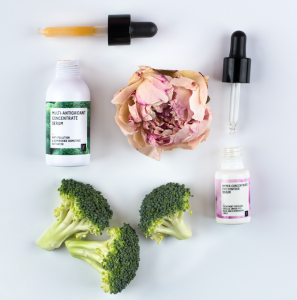 Did Paula Echevarría promote the brand on her own or how did you get the actress and influencer to mention your brand? Did you notice the effects of her magic wand?
We often work with influencers as part of our marketing strategy for a specific campaign or product launch. With the impact they have on social media today, influencers have become a megaphone to help us reach our target audience. We've worked with Paula Echevarría on several occasions and it's been great.
The impact she has is incredible and her engagement and conversion rates are very high. As soon as she promotes something, sales of that product sky rocket automatically. The return is immediate and very positive for the brand.
You've just launched a special line for kids. Is focusing on cosmetics for men still complicated? 
Women are our main target and, although we won't discard the idea of targeting other groups, for now we're focusing on WMW (working millennial women) as our main target group. There is growing concern about how to care for skin daily with cosmetics that are as natural as possible.
Even though you and most of your clients belong to the millennial generation, is youth still a hurdle to overcome when starting up your own business?
In terms of hurdles, we'd say we've faced a lack of expertise in business management and contacts with suppliers. But that has also helped us learn on the job and do things our own way. The truth is, we approach everything with the same passion and drive we had the very first day.