Cosmopolitan and sophisticated, San Miguel de Allende is a food and cultural destination like no other. Declared inside the World Heritage List by the UNESCO in 2008, the city has received yet another acknowledgement to its fold, and last year was awarded the World's Best Awards 2017 as the No. 1 Best City in the World. It is therefore not surprising that the city has maintained its character as a peacefully quiet small colonial city with the vibrant dynamism of a big city and the most hidden architectural, historic and culinary secrets of Mexico.
Founded in 1542, the city centre has remained untouched for the last 250 years. In the 1960s, San Miguel established itself as the favourite weekend destination of many Mexicans and a paradisiac resort for American and Europeans, who have given the place a cosmopolitan and eclectic touch. It was then that the first gourmet restaurants, designer stores and art galleries emerged. The charm of this Magical City comes from its peculiar preservation of the Mexican traditional culture with a contemporary treatment of each and every one of its elements. Walking around its cobbled streets is an experience in itself, its peace and quiet, and the Mexican colours are present at every corner and every stone. The city has over 2,000 doors, each of them with its corresponding courtyard, and the most unforgettable sunsets can be enjoyed from its many terraces.
SIGHTSEEING IN SAN MIGUEL DE ALLENDE
The main square with the famous Parish Church of San Miguel, the San Francisco Church, Santa Cruz Chapel, Casa del Mayorazgo, the Casa de Allende (Allende House) Museum, the Centro Cultural Nigromonte, the Angela Peralta Theatre, the Church of the Nuns (Las Monjas), the Instituto Allende or the Mask Museum: these are just some of the many landmarks that the city offers its visitors.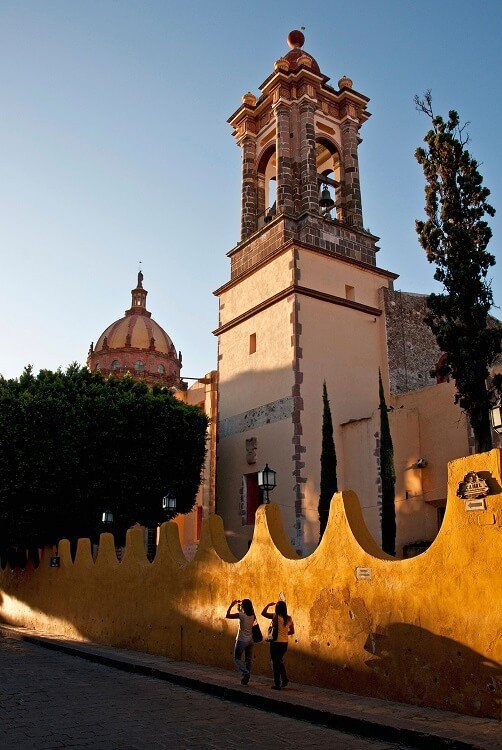 SLEEPING AND EATING IN SAN MIGUEL DE ALLENDE
Dôce 18 Concept House. This space contains the best in design, fashion, art and gastronomy. The only Jewish building in the city is the iconic Casa Cohen. The house holds a small exclusive hotel boutique, L'Ôtel, offering only 10 bedrooms on its top floor. There is also a concept store specially created to play host to the best in Mexican design: a flower shop, an art gallery, an interior design store, ceramic tableware from Michoacán, a book store a gourmet food court are some of the facilities of this exclusive project. The restaurant is one of the best in Mexico: Jacinto 1930 was conceived as a surprising gastronomic and aesthetic enterprise that retraces ancient techniques of food preparation based on the main ingredient of Mexican food: corn. The kitchen is run by Oaxaca-born chef Israel Loyola. All the Mexican flavours meet in his cuisine:  jalapeño, mole and chocolate blend in with distilled drinks like tequila and mezcal to create delicious combinations of Mexican shades and European strokes.
Dos Casas is a colonial old mansion turned into a charming hotel with a modern touch. It contains 12 bedrooms, each of them decorated in a different manner. The suites offer magnificent views of the city's main Parish and the city at large. Dos Casas also plays host to a restaurant Áperi, the Latin word for "open", as it perfectly describes the spirit of the restaurant. A unique culinary experience; food for the five senses, prepared with fresh local ingredients, passion and excellence supplied by its head chef Matteo Salas.
Hotel Matilda is the worthy heir to the trendiest of San Miguel. The hotel has preserved its colonial façade of an old mansion, and adds a modern central building onto it which hosts minimalist-style bedrooms. The building also houses a delicious food restaurant called Maxi, created by Enrique Olvera, recognized as the best chef in Mexico. Its gastronomic experience is simply spectacular, and from the hors d'oeuvre to the desert, its guests are submerged into all the flavours of contemporary Mexico.
Cumpanio is a must-go place: restaurant, bar and bakery with a difference, run by a French-Italian pâtissier family who arrived in Mexico over 100 years ago.
SHOPPING IN SAN MIGUEL DE ALLENDE
Código Postal Design. Designed with the iconic style of Luis Fabián Flores in Casa Armida. The house hosts three exclusive boutiques of Mexican designers: Colektiva Hoja Santa (handcrafted clothes brands), Elisheva & Constance (jewellery made with local materials and Mexican hands), Casa Armida (furniture, stunning and exclusive retro lamps and objects). The selection for this house was far from random, since the purpose of this place was to promote young entrepreneurs, showcase them and turn the place into a trendy hotspot. The place also includes a restaurant, Bovine, a brasserie for unmatched meat flavours. This concept was created by Bruce James, director of Hotel Matilda, and the menu owes its reputation to the renowned Australian chef, Paul Bentley. Its ingredients are local and focus on enhancing barbecued flavours.
Tao Studio is a gallery lab of unique objects. Its creative director, Spanish-born Miguel Arregui, has succeeded in blending in tradition and modernity, feelings, thoughts, surprise and aesthetics, and has joined hands and hearts in his project with the best master artisans. Stone, metal, wood and textiles are some of the materials used in creating his collections.
KM 33. Breeding ground of talented budding designers, mainly Mexican. These stores are strategically located in favourite touristic destinations of international influencers: Tulum, Punta de Mita, San Miguel de Allende. These stores offer beautiful clothes and accessories that seem to contain the best of Mexican culture. The masterminds behind KM 33 are Sara Galindo, an expert in Mexican fashion, and Gael Deboise, a designer specially gifted in the world of luxury, a regular collaborator in projects involving great international brands. This boutique is located inside the exclusive Casa No Name, a hotel of only six bedrooms.
Notus. A recently-open modern and contemporary optician's, run by an Italian usually involved in international handcraft brands, that will eventually become part of a bigger project including an art gallery and a café.
Jot down in your agenda: "book three days to visit San Miguel de Allende".