T
he sales archives of the Egibi family are, as David Landes mentions in his work The Invention of Enterprise, the first recorded documents of a company that still exist today. The cuneiform tablets tell the business history of the House of Egibi, dedicated to trade for five generations in ancient Mesopotamia.
The United Kingdom is home to a business association called The Tercentenarians, a club for family businesses with more than 300 years of history. The Fortnum & Mason shop in Piccadilly founded in 1707 and the Whitechapel Bell Foundry, bell manufacturers (1570), are two of the members of this association.
Les Hénokiens created in 1981 by Marie Brizard is made up of 47 family-run companies with at least 200 years in business. The oldest member is Hoshi Ryokan, a traditional Japanese establishment considered the oldest hotel in the world, operating since 718.
In Spain, according to data from the INE, there are currently more than 3.4 million companies in business. 16.3% of active enterprises have been in business more than 20 years and 20.8%, less that two. The average lifespan of Spanish companies is between 12 and 15 years, and they are dying sooner and sooner. According to the most recent figures (2016), Spain has 1,321,345 companies with salaried employees. Creative destruction, a concept made popular in its day by Joseph Schumpeter in his book Capitalism, Socialism and Democracy (Innovation creates a constant renovation of the productive fabric. New products destroy old companies.) has taken root in the Spanish economy.
Spain currently has roughly 100 companies that have been in business at least one-hundred years, far from the 800 in Germany or the 200 in the Netherlands and France.
Some companies, many family run, that are still around, having survived the great difficulties of 20th century Spain: loss of the colonies, civil war, autocracy, joining the European Union and the new challenges of globalisation.
But a company's success or failure doesn't depend as much on overcoming external conditions, which affect all businesses, as those inside the company: like business management, succession, innovation, diversification and internationalisation. These are key factors to their success and longevity.
More than 30 of these companies are currently Fomento del Trabajo members, including Baccardi, Codorniu, Freixenet, Font Vella, Miguel Torres, Vichy Catalán, Siemens, and La Vanguardia, which are celebrating their anniversary in 2018, and Laboratorios Uriach (180 years) and Gas Natural (175 years).
In 2017, several of these companies commemorated the anniversary of their founding. Through bibliographic information and records from the Archives of Foment, we can look back at their origins.
AGUAS DE BARCELONA (1867-2017) – 150 years in the business of water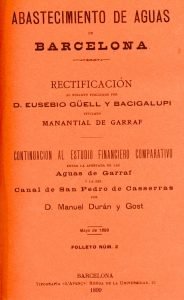 Established in Lieja in 1867. In the late 19th century, Aguas de Barcelona took the initiative of harnessing water resources and creating a wide-reaching supply network. Between 1875 and 1880, the company was granted a concession to conduct exploration within the Dosrius town limits and began underground exploitation on the right bank of the Besòs River between 1879 and 1881.
The enterprise collaborated with the 1888 Barcelona Universal Exposition, supplying water to the fountain installed in Plaça Catalunya, and with the 1929 Barcelona International Exposition, supplying water to the Magic Fountain of Montjuïc.
INDUSTRIAS TITAN (1917-2017) – Brushes with success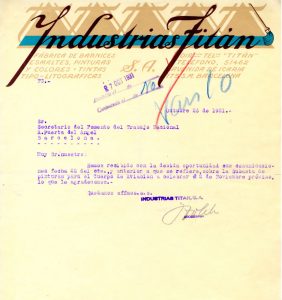 The company started off as Floch, Albiñana y Cía (1882), which originally traded in grain, and later began distilling alcohol. In 1917, Sociedad Anónima Novellas was established. In 1920, Joaquin Folch y Girona became a partner. In 1934, Industrias TITAN introduced its first synthetic varnish.
ROCA CORPORACIÓN EMPRESARIAL (1917-2017) – A global company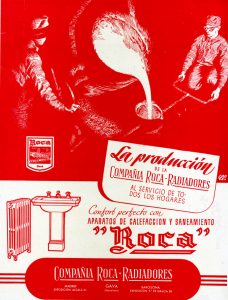 Its origins were in Talleres Roca S.A., a small blacksmith's workshop started by Ignacio Soler. It was his great-grandchildren Ángela, José, Martín and Matías Roca Soler who started the first factory manufacturing radiators for home and industrial heating in Spain in 1917. They later began making cast-iron bathtubs, bathroom and kitchen fixtures and porcelain.
CAMARA DE COMERCIO ALEMANA PARA ESPAÑA (1917-2017) – 100 years of history to remember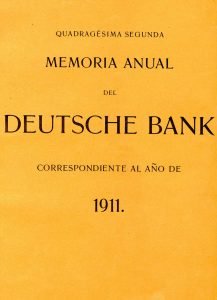 Founded in 1917 when 40 companies from Germany decided to create the Asociación Económica Alemana en Barcelona (German Economic Association in Barcelona) to foster Hispano-German relations and defend the interests of German companies established in Spain.
The first German companies in Spain appeared in the late 19th century, mainly in the 1880s. Investment was mainly in the chemical and pharmaceutical sector: BASF, with representation in Spain (Barcelona, 1878), Bayer (1884), Schering (1885), Merck (1888), Fabricación Nacional de Colorantes, S.A. (1922), La Química Comercial y Farmacéutica S.A. (1925), IG Farben (1925); the electro-technical sector: AEG with offices in Madrid, Seville, Bilbao and later in Barcelona with Compañía Barcelonesa de Electricidad (CBE) in 1896 and Siemens; the banking sector: Banco Hispano Alemán, Deutsche Bank, Banco Alemán Transatlántico; and insurance: Albingia, La Mannheim, El Alto Rhin, La Victoria de Berlín and La Badense.
More information at: Foment Library Archives
* All the images belong to the Archives of Foment (AFTN)