Agenda Digital & Tech Spain June 2018
Digital & Tech agenda
A monthly selection of relevant
technological events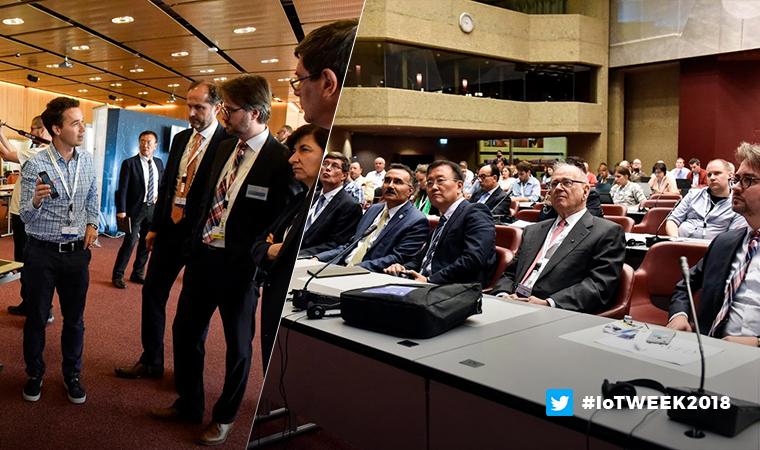 IoT WEEK BILBAO
Bilbao, June 4
The International Forum on the Internet of Things where experts meet and the future is projected: emerging technologies, research and innovation, artificial intelligence, security and privacy, industry 4.0, Big Data ...
IoT Week Bilbao
June 4-7. Euskalduna Conference Centre - Abandoibarra Etorb., 4, 48011 Bilbo, Bizkaia
IoT Forum e IK4-TEKNIKER
First Tuesday: Alejandro Artacho
June, 5. El Callejón de Serrano. Serrano, 63. Madrid
First Tuesday, BStartup & Nuclio Venture Builder
Experience fighters
June, 6-7. Auditorio de Mutua Madrileña . Paseo Eduardo Dato, 20. Madrid
Experience fighters
Forum AUSAPE: La seguridad en la empresa digital
June, 6-7. FYCMA ‐ Palacio de Ferias y Congresos de Málaga. Málaga
AUSAPE
GP Bullhound: Token Frenzy, the fuel of the blockchain
June, 13. Gómez-Acebo & Pombo. Castellana, 216. Madrid
GP Bullhound
Organizaciones inteligentes en la economía digital
June, 14. Torre Espacio. Planta 42. Paseo de la Castellana, 259D. Madrid
Expansion & Microsoft
International Exchange Forum
June, 14-15. Palacio de Ferias y Congresos de Málaga. Avenida de José Ortega y Gasset, 201. Málaga
Interex Forum
Smart Agrifood Summit
June, 20-22. FYCMA - Palacio de Ferias y Congresos de Málaga. Málaga
Smart Agrifood Summit
SUMMIT I Ciberseguridad d3c0dificada para la protección de datos
June, 27. GO Madrid. 39 Gran Vía.
GirlsCanHack, TechHeroX  & Mujeres Tech
Media Startup Alcobendas
June, 28. Auditorio Paco de Lucía - Centro de Arte, Alcobendas
Media Startups Alcobendas
Sign up for the newsletter and get digital & tech events delivered to your inbox.


Information on Data Protection

Responsible: The New Barcelona Post (Foment del Treball).
Purpose: Manage the sending of newsletters by email with information about upcoming planned activities.
Legitimation: Consent of the interested party.
Targets: The request will add the data to the MailChimp system, in order to send the newsletters by e-mail to the user.
Rights: You have the right to access, rectify and delete this data, as well as other rights that are also explained in the privacy policy.
Data retention: Until the user requests its deletion.
Additional information: For additional and detailed information on the privacy policy, see https://www.thenewbarcelonapost.com/en/privacy-policy/.